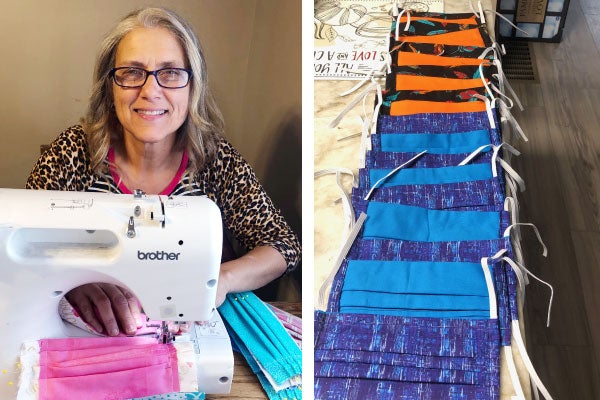 Terry Lang sews masks for people on the coronavirus front lines
An employee of East Kentucky Power Cooperative has spent more than fifty hours sewing masks for people at the power plant and those on the front lines of the COVID-19 pandemic – and she's not stopping there.
Terry Lang, a plant operator at Spurlock Station in Maysville, is using her sewing skills and spare time to create face masks for nurses, co-workers, essential workers and anyone who wants protection amidst the current pandemic.
After she heard that area hospitals were running out of masks, Lang ran to her sewing machine and began making them from the fabrics she had at home.
Lang's first order was for 50 masks, and it escalated from there. When she received her first order, she enlisted the help of her sister, Kathy Bisotti, who is a registered nurse. Bisotti said, "Not being able to hug my patients when they come into my office, needing comfort, is the hardest part."
"In such a dark time, it is so uplifting to see the community come together," Lang said. "We are all banding together and it gives me hope."
Her "sew-a-thon" began through a Facebook group initiative that originally launched to produce protective gear for healthcare workers.
Lang has two children, a daughter studying to be a nurse practitioner and a son serving in the Air Force.
She has a special place in her heart for those working the front line of the pandemic. Lang worked at Fleming County Hospital in Flemingsburg before starting her career at EKPC nine years ago. From her position at EKPC and her previous job as a certified nursing aide, she knows the importance of having proper personal protective equipment.
So far, she has donated more than 150 masks to hospitals, nursing homes, co-workers and home health agencies, helping to meet a crucial need. The Centers for Disease Control and Prevention recently advised the use of cloth face covers – like the ones Lang has been making – even for those who aren't exhibiting symptoms of the virus.
Although her masks are not medical-grade N95's, Lang's design has a unique opening to allow the user to place a filter.
The handmade fabric masks she sews fall into the face-covering category and will be distributed to those who ask for one.
"I get orders and requests daily from people I have never met," she said. "I will sew for whoever needs one. So until there is not a need, expect to find me at my sewing machine."
Lang does not plan to stop anytime soon thanks to a recent donation of elastic. If you want to donate materials, or if you want a mask of your own, she asks people to call her at (606) 548-7441.
If you would like to join Terry in the effort to make masks, click here to learn how.